The microphone array:
INDOOR PASS-BY SETUP
Check out the typical measurement setup
The microphone array should be placed at 7.5 m from the centre line and even though it can give comparable results with a shorter distance, the 7.5 m distance is mandatory.
The test can be performed using a single-sided as well as a double-sided array of microphones.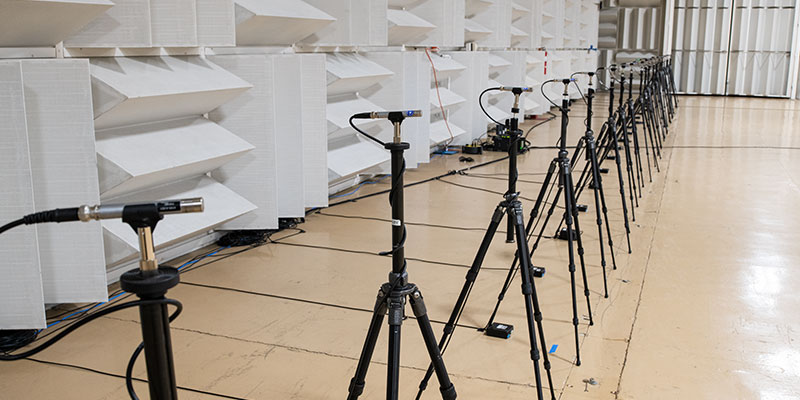 Software and Microphone Arrays
The indoor pass-by software should be able to: 
Combine time data from each microphone in the array to emulate a virtual sweep of the microphones passing by the vehicle. This will emulate the vehicle passing by a single microphone and the evaluation of overall sound pressure levels as a function of track position.
Emulate the positions equivalent to FPB measurement. 
Tyre/Road Noise and Associated Corrections
As tyre noise emitted from the dynamometer drums is not very realistic, it is not comparable with tyre/road noise performed in outdoor measurements. All indoor tests for homologation and CoP need to use specific procedures for tyre/road noise called Tyre/Road Noise Variant A. Only Variant A can be used for homologation and CoP and is described in ISO 362-3:2016 Annex B. 
This method is a combination of indoor testing (for powertrain noise) and outdoor testing (for tyre/road noise). It is not necessary to repeat the tyre/road noise measurement every time a vehicle is tested. The data of several tyres can be stored in a database and a matching dataset from the database can be used for further tests. 
To minimize tyre/drum noise in an indoor facility, it is recommended to use the lowest number of driven axles on the drum, and the tyres preferably slick or low noise. Noise barriers or other masking methods can be set up around the tyres to further reduce the noise contamination of the powertrain noise with tyre noise from the drum during measurement.  
If the remaining tyre drum noise is less than 10 dB below the maximum A-weighted sound pressure level produced by the vehicle under test, the result is corrected by energy subtraction from indoor measurements. To minimize this effect, slick tyres are again recommended and the masking of the tyres can be introduced provided it does not remove any powertrain related noise. According to ISO-362:2016 B6 this evaluation must be performed and documented even when slick tyres are used on the drum. 
The evaluation of tyre/road noise consists of two procedures: 
Evaluation of free rolling noise.
Evaluation of tyre/road sound including torque influence, which should be derived from the free rolling noise using a simplified torque influence method. 
All conditions for evaluation of tyre/road noise, free rolling noise, and torque influence are described in more detail in ISO 362-3:2016, Annex B. 4.  
The total vehicle noise is the energy sum of tyre/road noise from the outdoor measurements and powertrain noise from indoor measurements. This calculation is carried out for each single run as described in ISO 362-3.2016, paragraph 10.2.4.  
The vehicle must be subject to the same operating condition, WOT and CRS measurements as described in Regulation 51-03 annex 3 for FPB and adhere to the same noise limits for Lurban as for FPB testing.