Since 2019, indoor pass-by has been approved for homologation (R51.03 Am4) and conformity of production, and is, therefore, a real alternative to the weather-dependent outdoor method. Measuring a vehicle's interior and exterior noise during operation is far simpler indoors using a chassis dynamometer in a large hemi-anechoic room. In this controlled environment, measurements are protected from the elements, are highly repeatable, can be made all year round, 24/7, while the stationary vehicle allows easy access for more instrumentation to ascertain the root causes of the emitted noise.
The pass-by test is simulated by driving the stationary vehicle on the dyno as if it were a conventional outdoor pass-by measurement and measuring the emitted sound with a linear array of microphones to either side of the vehicle. The microphone signals are processed together with the vehicle speed to simulate a pass-by result which is directly comparable, including doppler correction, with an outdoor result. The standard provides a method for correcting the tyre noise using data from an outdoor measurement on an ISO-compliant test track.  
How to take advantage of indoor pass-by testing?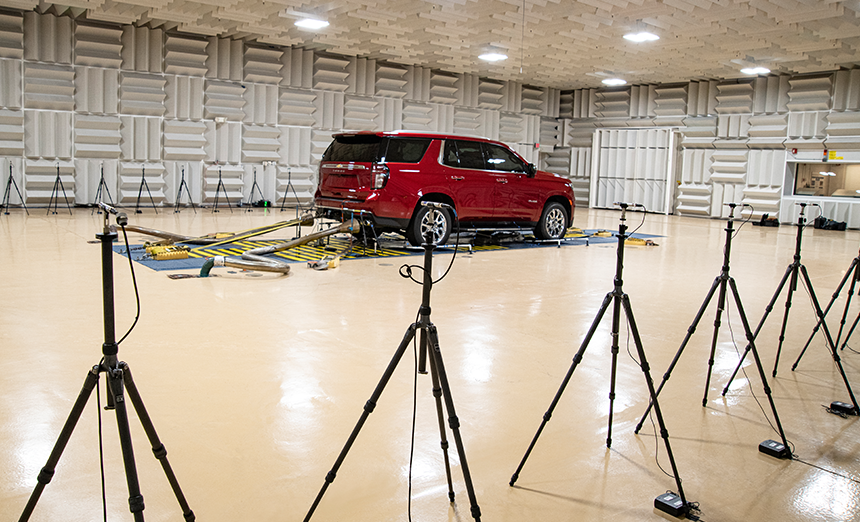 Indoor pass-by testing facility approved for homologation (R51.03 Am4).
There are many factors that determine the pass-by test method but regardless of choice, indoor results can be correlated with outdoor results, ensuring that any decisions made regarding exterior noise are based on correct information.
Development and design
When it comes to development and design there is a long list of possibilities to help vehicle manufacturers investigate and optimize their designs to not only get through the regulations in a cost-effective way, but also address exterior noise earlier in the design process. These include noise source quantification methods, such as array acoustics and Source Path Contribution (SPC) analysis.
Source contribution analysis
One of the biggest advantages of indoor pass-by is the use of noise source contribution analysis to look at the contributing effects of all the different potential sources. This is hugely important for all vehicle manufacturers. Electric vehicles, albeit quieter, still emit noise that is not tyre noise, so it is also important for EV manufacturers to understand the contribution effects of these different/new noise sources. 
SPC is a technique for evaluating contributions from different sources to receiver locations, in this case the pass-by microphones. The dominating sources with respect to a given receiver can be highlighted, then further investigations, using CAE or development testing, can focus on those sources. This method is often used to investigate design solutions for meeting both the pass-by noise regulations and interior noise. 

Tyre Noise Measurements, Engine Noise Measurement, Exhaust Analysis and Interior Noise Analysis
With the ever-increasing restrictions on vehicle noise and the importance of correcting problems earlier in the design cycle, indoor pass-by is a convenient and efficient way to evaluate exterior noise and avoid the unexpected. From design to homologation, it is becoming a crucial tool in the engineer's toolbox.