Calculating temperature distribution at different loading levels with real time data
HBM technology is especially user-friendly in practical applications: Before starting up, the thermocouples are conveniently calibrated by the LabVIEW* software via an the QuantumX system's open interface. After, the thermo-transducers are distributed over the motor block, cylinder head and exhaust system and then applied at different depths of the material. The test bench runs through several operating points during the test to simulate different types of loading encountered while driving. The QuantumX amplifier records the temperatures and forwards the information to the test bench system via scalable outputs in real time.
QuantumX temperature measurement with LabVIEWTM
"Our system is integrated into the test stand measuring system through the HBM QuatumX CANbus Gateway. We have instant access to all temperature data and are able to work with the data," explains Kanzenbach. 300 temperature values per second can be recorded and transferred for each channel at a bandwidth of up to 15 Hz with 24-bit resolution, immune from interference. The thermal calibration of the measuring chain based on only two measurement points allows for a further significant improvement in measurement accuracy. This ensures that even very small dynamic temperature changes will be recorded.
Then the data is combined on the test bench with other engine values such as speed and torque. For very high speeds up to 30,000 rpm, an inertia-optimized torque measurement system is used. The results make it possible to calculate temperature distribution in the engine at different engine loading levels. "With this high-precision measurement of temperatures, engineers can then improve engine efficiency still further," concludes Kanzenbach.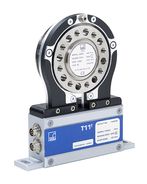 * LabVIEW is a registered trademark of National Instruments Corporation.