When Dyno Dynamics set out to design a new high-speed engine dynamometer, they knew it would be more than just an upgrade to one of their existing models. With requirements
of
10,000 rpm
and
1,000 Hp
(approx. 750 kW), a new approach was needed. The power rating was not an issue, Dyno Dynamics has built higher-rated engine dynamometers in the past. It was the
10,000 RPM input speed
that needed some thought. Given other design constraints, they chose to use eddy current retarders, as these are compact, robust, and fast-acting. Dyno Dynamics has shipped thousands of retarders over the past 20 years, with very few in-service failures. However, off-the-shelf retarders for higher power ratings are generally limited to 4,000-5,000 rpm. The clear solution is a gearbox to reduce the shaft speed to something more manageable. An off-the-shelf industrial gearbox for the power required would be both large and expensive if Dyno Dynamics could source one.  Was there an alternative? The solution came from the racing world: the dynamometer is designed for high-power racing V8s.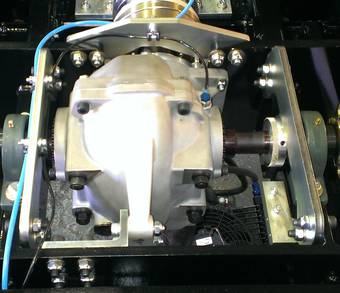 A V8 supercar differential , complete with oil cooler
With a 2.86:1 ratio, the output shaft speed is reduced to a more manageable 3,500 rpm, and the two output (axle) shafts allow compact fitting of a pair of retarders.