A Desktop NVH Simulator is a complete system for use in an office or laboratory environment, enabling the user to evaluate, modify and design data interactively by 'driving' through a virtual scenario shown on a desktop monitor.
Based on the need for having a more consistent way of evaluating and communicating the NVH performance of a vehicle before you have an actual physical prototype, it uses driver controls – accelerator, gears, steering, and brake – as inputs to a real-time sound model that accurately recreates the sound of a car over its full driving envelope. It displays a sufficiently realistic visual scenario on a series of computer monitors so that experts and non-experts can assess the sound quality of existing or virtual vehicles with confidence while driving. It can be easily transported, for example, .
System suggestion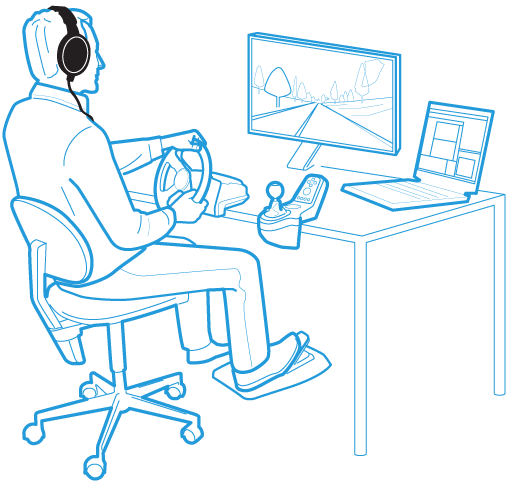 Data preparation software enables NVH and vehicle performance data to be extracted from recordings made on the road or on a test bench (or any other source of NVH data) and prepared for free driving in an NVH simulator. Modules include:
Core and visuals
Jury evaluation
Engineering
Engineering and jury
The hardware supplied with the standard system includes a PC, a high-quality steering wheel and pedals, three screens, to provide a more realistic impression, and a set of equalized and matched headphones. Optional hardware can be supplied.