Building acoustics is the assessment of sound insulation in buildings and building elements, and building acoustics measurements are invaluable when designing or examining noise control constructions in the built environment.
Whether in our homes, at work, or at leisure, our lives are constantly affected by an ever-increasing number of noise sources such as televisions, kitchen appliances, neighbours, traffic, industry – all of it noise pollution. One method of reducing the pollution is to reduce the noise source level. Building acoustics takes another approach and examines insulation and isolation from the source.
Brüel & Kjær has a complete programme of applications to check conformance to building regulations and pinpoint weak spots in sound insulation.
System suggestion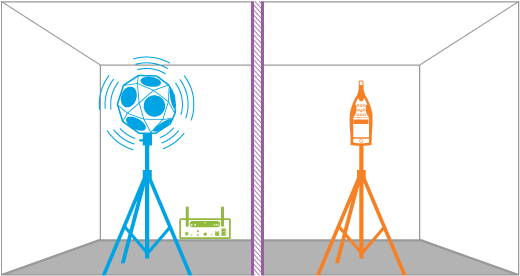 Building Acoustics Software BZ-7228 is available for Types 2250 and 2270 sound level meters, providing flexibility, ease of use and confidence in your results that field measurements require in building acoustics.
Back at the office, Qualifier Type 7830 offers versatile post-processing and reporting of your measurement results.
A typical configuration for building acoustics measurements would consist of a sound source or tapping machine, a sound level meter, and PC for reporting.
> Building Acoustic Measurement on 2270 Hand-held Analyzer  (YouTube)