The simulation assumes
favorable conditions
. Subsequent practical tests investigate whether the theoretical findings can be verified by test results. For this purpose, strain gauges (SG) are installed in the area of the
calculated maximum load
. Strain gauges respond to tensile or compressive force with a change in electrical resistance.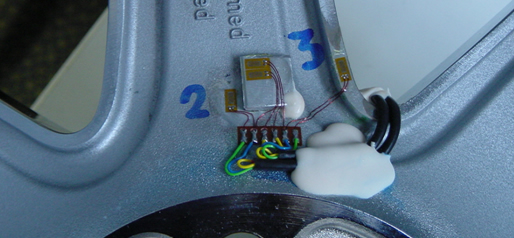 Strain gauge installed on a test specimen
These changes are too small to allow direct analysis, therefore, strain gauges are operated in bridge circuits.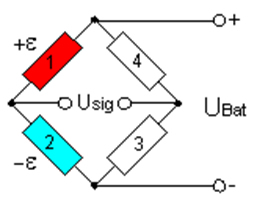 Diagram of a bridge circuit
The strain ε is calculated using the following equation: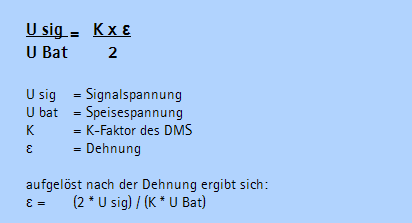 After installation of the strain gauges, the aluminum wheels undergo fatigue testing or biaxial wheel testing.
Biaxial wheel tests
show the actual structural properties of newly developed wheels; biaxial wheel tests have virtually transferred the test track into the laboratory. Since the wheels rotate in the test stands, the signals are transmitted to the
QuantumX MX410 measuring amplifier
via
wireless telemetry
. This compact, four-channel amplifier has been specially developed for acquiring and analyzing
highly dynamic, mechanical processes
. Every channel of the MX410 universal module supports six transducer technologies and offers sampling rates of up to 96 kHz/channel with 24 bit resolution. It provides the
highly precise results
that are required for acquiring highly dynamic forces and accelerations. The conditioned measurement signal is available as both a digital value and an analog signal. The
MX410
can thus be easily connected to different analysis systems. It uses both Ethernet and FireWire for communication. Results can be recorded, visualized and analyzed on a PC using, for example, catmanAP software.